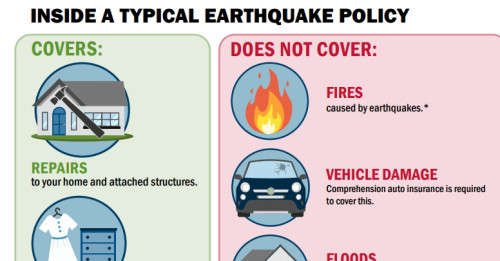 There are two times at which you may purchase or add Earthquake coverage

Nicholas Springer
Can you purchase earthquake insurance for your home? Yes -ish
Most of the carriers that insure your home do offer an earthquake endorsement. However, there are some caveats...
There are two times at which you may purchase or add Earthquake coverage to your home policy:
When the policy Starts
When the policy renews
What this means is that you may not add the coverage whenever you want to - like after a devastating earthquake in another area. You may also not take it off either.
Another aspect of this coverage that needs to be discussed before purchasing is the deductible.
The deductible for the earthquake coverage is always going to be different than the normal All-Peril deductible that applies to the other coverage on the home. Earthquake coverage typically comes with a 10% deductible - this means that the deductible will be 10% of the covered value of your entire home.
Example:
Your home is insured for $300,000. This means that the deductible is going to be $30,000 - yes that's Thirty - Thousand dollars. Take that number from the total covered damage amount from the earthquake and then you get the payout.
During the last two earthquakes in Central Virginia, our agency had, If I recall, less than 10 claims submitted. Not one paid out because the damage in every single case was lower than the deductible.
Now, if there is a catastrophic earthquake in our region, the payouts would be much higher, I'm sure. The only catch is, nobody every really cares about it until it happens somewhere in the world - unfortunately that usually does not happen at renewal!
If you need earthquake now, we may still be able to help! Call us!