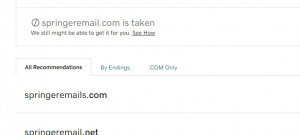 We now own like 60 domains... every time we get a new idea...

Nicholas Springer
Domains are hard to come buy these days! Well at least the one you actually want! In 2001, I created our first web site, that by today's standards, was so basic! Our name was The Springer Agency and so that's what I bought; www.thespringeragency.com. Easy Enough. However, as we transitioned away from our given @Nationwide.com addresses (mine was springn) we had to start giving out our @thespringeragency.com addresses.
Sounds easy too… except sound that out for yourself: the springer agency dot com. Some people thought were saying D springer agency. Yet some others forgot the The altogether. We found that out by getting an email from an agency in Indiana that owned www.springeragency.com.
In order to have a really easy domain, you must first think how easy it will be for someone to not only listen to, but also type and spell on their own. Springer is easy… but that was taken. Well what else could we use for our email address that said our name and was easy to spell? How about springeremail.com? That works. No repeating letters. Everyone seems to know how to spell both words and they don't really sound like anything else.
So, although each agent has our own official @thespringeragency.com address, we all now also have a secondary email address @springeremail.com. What's my email address? Nick at springer email dot com!